Post by steve on Apr 4, 2013 17:36:47 GMT 1
Our good friend
eduardo
has agreed to send in the live set tonight. (signal permitting)
So stand by with your F5 keys to refresh this page for the latest song news live from Rio.
Please feel free to tweet this page with the hash tags
#LatAm2013
&
#thecurebrasil
This is it folks. We're ready to rock & roll
From
eduardo
20 minutes & the stage is being set up..
Almost there
Seems to be a 25 minute delay.
There are still people arriving after being caught in traffic
Here they come....
Tape is running..
& after 17 years away from South America, the first song for LatAm2013 is........
Open
**Robert says Hello & Obrigado**
High
The End Of The World
Lovesong
Push
Inbetween Days
Just Like Heaven
From The Edge Of The Deep Green Sea
Pictures Of You
....from eduardo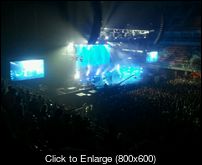 Lullaby
**the crowd is screaming a lot. Another obrigado from Robert**
Fascination Street
Sleep When I'm Dead
Play For Today
A Forest
....from eduardo
**Simon is ending. Crow screaming**
Bananafishbones
**Robert's doing "the dance"**
Shake Dog Shake
Charlotte Sometimes
The Walk
**the crowd is wonderful**
Mint Car
**Robert dancing with the crowd. Magic**
Friday I'm In Love
**everyone in the crowd dancing**
Doing The Unstuck
Trust
**after 17 years, still an amazing crowd. Jason's wearing gloves**

Want
The Hungry Ghost
Wrong Number
**Bob is screaming "Hello" at the crowd**
One Hundred Years
**3 huge video screens. Left, Right & Centre**

End

**Our eduardo is having a well earned beer**
+++ENCORE 1+++

**stars shining n the big screens. Magic**
Plainsong
Prayers For Rain
Disintegration


+++ENCORE 2+++

**another beer for eduardo. Deservedly so**

Dressing Up
The Lovecats

**Bob's in a great mood & playing with the crowd again
**
The Caterpillar

**Reeves with a yellow guitar & Bob dancing again
**
Close To Me
Hot Hot Hot!!!

**Roger blasting on keyboards
**
Let's Go To Bed
**Reeves with his orange guitar now
**
Why Can't I Be You?
**Crowd's going nuts again
**
Boys Don't Cry
**overwhelming feeling of happiness there
**
10:15 Saturday Night
Killing An Arab

**the crowd is delirious
**


**Bob. "Thankyou & goodnight"
**



Once again, a huge thanks to eduardo for the updates & the comments too.
& thanks to the rest of the staff who managed to stay up this late/early to relay the live messages

Mostly, thanks to you all for staying around to share in the chat & the show. It wouldn't be the same without you