Post by steve on Apr 11, 2016 18:46:48 GMT 1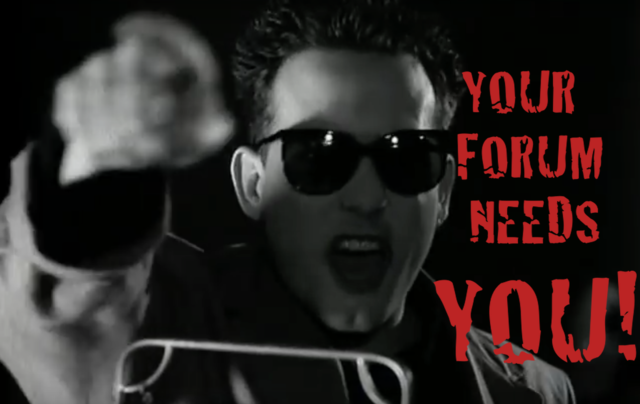 With the tour kicking off very soon, we would love to continue the tradition of bringing you live setlists so that those that cannot be there can be a little closer to the action as updates come in.
Basically this would entail some kind soul(s) volunteering to send the name of the song being performed (with maybe even a comment on sound, crowd, Robert's shirt, etc.) which we would then update in the first post of each show thread (see some examples
here
. )
That would typically be done by sending the board moderator/ staff member live updates via whatsapp, viber, hangouts, sms etc. (not FB messenger though). We know many of you will be at the front, or throwing your underwear at Simon, but if you're planning to watch from a safe distance, I'm sure your fellow community members would love to know what's going on.
In addition, for the tour, the time differences & sheer number of shows will no doubt mean not all forum staff can be around for every show. I managed most of the LatAm tour & nearly overdosed on espresso.
So we are considering appointing volunteers as board moderators for the live boards to receive the updates from our roving reporters & add to the live setlist right here

If you're a little unsure, then fear not. We will have your backs & will show you the ropes regarding editing & updating

So if you fancy being a hero, please post which show or shows you can do & whether you want to be a reporter or a thread moderator here & we'll add you to the list below accordingly. If you feel up to helping out for more than one show, then by all means go for it, but don't over-commit if you can't

Oh & one more thing. All volunteers will get (if they haven't already) immediate access to the sharing boards

The Cure North American Tour Dates
May 10, 2016 UNO LAKEFRONT ARENA
New Orleans, Louisiana United States
Reporter:
May 11, 2016 UNO LAKEFRONT ARENA
New Orleans, Louisiana United States
Reporter:
May 13, 2016 FRANK ERWIN CENTER
Austin, Texas United States
Reporter:
pussycat
May 14, 2016 Toyota Center
Houston, Texas United States
Reporter:
pussycat
May 15, 2016 AMERICAN AIRLINES CENTER
Dallas, Texas United States
Reporter:
May 17, 2016 DON HASKINS CENTER
El Paso, Texas United States
Reporter:
soitrickmyself
May 19, 2016 THE CHELSEA THEATER AT THE COSMOPOLITAN
Las Vegas, Nevada United States
Reporter:
May 20, 2016 SLEEP TRAIN AMPHITHEATER
Chula Vista, California United States
Reporter:
fiveswinglive
May 22, 2016 HOLLYWOOD BOWL
Los Angeles, California United States
Reporter:
Sang
May 23,2016 HOLLYWOOD BOWL
Los Angeles, California United States
Reporter:
fiveswinglive
May 24,2016 HOLLYWOOD BOWL
Los Angeles, California United States
Reporter:
fiveswinglive
May 26, 2016 SHORELINE AMPHITHEATER
Mountain View, California United States
Reporter:
May 29, 2016 SASQUATCH MUSIC FESTIVAL
George, Washington, United States
Reporter:
May 31, 2016 FESTIVE LAWN AT DEER LAKE PARK
Burnaby, British Columbia Canada
Reporter:
June 2, 2016 CENTURY LINK ARENA
Boise , Idaho United States
Reporter:
June 3, 2016 MAVERICK CENTER
Salt Lake City, Utah United States
Reporter:
June 5, 2016 FIDDLER'S GREEN AMPHITHEATRE
Englewood, Colorado United States
Reporter:
June 7, 2016 MINNEAPOLIS- SAINT PAUL
Saint Paul, Minnesota United States
Reporter:
June 8, 2016 STARLIGHT AMPHITHEATER
Kansas City, Missouri United States
Reporter:
June 10, 2016 UIC PAVILION
Chicago, Illinois United States
Reporter:
Sang
June 11,2016 UIC PAVILION
Chicago, Illinois United States
Reporter:
Sang
June 12,2016 BESTIVAL
Toronto, Canada
Reporter:
June 14, 2016 BELL CENTER
Montreal, Quebec Canada
Reporter:
June 16, 2016 AGGANIS ARENA AT BOSTON UNIVERSITY
Boston, Massachusetts United States
Reporter:
rubyali
June 18, 2016 MADISON SQUARE GARDEN
New York City, New York United States
Reporter:
finalsound
June 19, 2016 MADISON SQUARE GARDEN
New York City, New York United States
Reporter:
finalsound
June 20, 2016 MADISON SQUARE GARDEN
New York City , New York United States
Reporter: f
inalsound
June 22, 2016 MERRIWEATHER POST PAVILION
Columbia, Maryland, United States
Reporter:
finalsound
June 23, 2016 PNC MUSIC PAVILION
Charlotte, North Carolina United States
Reporter:
finalsound
June 24, 2016 AARONS AMPHITHEATER LAKEWOOD
Atlanta, Georgia United States
Reporter:
June 26, 2016 BAYFRONT PARK
Miami, Florida United States
Reporter:
Sang
June 27, 2016 BAYFRONT PARK
Miami, Florida United States
Reporter:
Sang
July 16, 2016 NEAL S BLAISDELL ARENA
Honolulu, Hawaii United States
Reporter:
Sang
July 17, 2016 NEAL S BLAISDELL ARENA
Honolulu, Hawaii United States
Reporter:
Sang
AUSTRALASIA LEG
21.07.2016 Auckland - Vector Arena (New Zealand)
Reporter:
psychophysio
23.07.2016 Yelgun - North Byron Parklands (Australia/NSW)
Reporter
25.07.2016 Sydney - Qudos Bank Arena (Australia/NSW)
Reporter:
28.07.2016 Melbourne - Rod Laver Arena (Australia/VIC)
Reporter:
29.07.2016 Adelaide - Adelaide Entertainment Centre (Australia/SA)
Reporter:
31.07.2016 Perth - Perth Arena (Australia/WA)
Reporter:
BESTIVAL
10.09.2016 Downend (Isle of Wight) - Robin Hill Country Park (England)
Reporter
wilgy, ohfuchsia, gothmaz
EUROPE LEG
07.10.2016 Helsinki - Hartwall Arena (Finland)
Reporter
09.10.2016 Stockholm - Ericsson Globe (Sweden)
Reporter
11.10.2016 Oslo - Spektrum (Norway)
Reporter
12.10.2016 Göteborg - Scandinavium (Sweden)
Reporter
14.10.2016 København - Forum København (Denmark)
Reporter
17.10.2016 Hamburg - Barclaycard Arena (Germany)
Reporter
wilgy
18.10.2016 Berlin - Mercedes-Benz Arena (Germany)
Reporter
wilgy
20.10.2016 Lódz - Atlas Arena (Poland)
Reporter
22.10.2016 Praha - O2 Arena (Czech Republic)
Reporter
wilgy, gothmaz
24.10.2016 München - Olympiahalle (Germany)
Reporter
26.10.2016 Wien - Marx Halle (Austria)
Reporter
27.10.2016 Budapest - Papp László Budapest Sportaréna (Hungary)
Reporter:
steve
29.10.2016 Casalecchio di Reno - Unipol Arena (Italy)
Reporter
30.10.2016 Roma - Palalottomatica (Italy)
Reporter
01.11.2016 Assago - Mediolanum Forum (Italy)
Reporter
02.11.2016 Assago - Mediolanum Forum (Italy)
Reporter
04.11.2016 Basel - St. Jakobshalle (Switzerland)
Reporter
06.11.2016 Stuttgart - Hanns-Martin-Schleyer-Halle (Germany)
Reporter
07.11.2016 Frankfurt - Festhalle (Germany)
Reporter
wilgy
08.11.2016 Leipzig - Arena Leipzig (Germany)
Reporter
wilgy
10.11.2016 Köln - Lanxess Arena (Germany)
Reporter :
andbreathe
12.11.2016 Antwerpen - Sportpaleis (Belgium)
Reporter
wilgy, gothmaz
13.11.2016 Amsterdam - Ziggo Dome (Holland)
Reporter
ohfuchsia
15.11.2016 Paris - AccorHotels Arena (France)
Reporter
ohfuchsia
17.11.2016 Lyon - Halle Tony Garnier (France)
Reporter
18.11.2016 Perols - Park&Suites Arena (France)
Reporter
20.11.2016 Madrid - Barclaycard Center (Spain)
Reporter
22.11.2016 Lisboa - MEO Arena (Portugal)
Reporter
wilgy
24.11.2016 Barakaldo - Bizkaia Arena (Spain)
Reporter
26.11.2016 Barcelona - Palau Sant Jordi (Spain)
Reporter
ohfuchsia, gothmaz
29.11.2016 Manchester - Manchester Arena (England)
Reporter
wilgy, gothmaz
01.12.2016 London - The SSE Arena Wembley (England)
Reporter
wilgy, gothmaz
02.12.2016 London - The SSE Arena Wembley (England)
Reporter
wilgy, gothmaz
03.12.2016 London - The SSE Arena Wembley (England)
Reporter
wilgy, gothmaz